Most Essential Facts about Legends of Russia FC Players
Now more and more people are interested in sports disciplines and have started playing these sports. It is now becoming a trend all over the world. But now there are many people who do not want or cannot start playing sports, and therefore they simply watch various sports events on TV or through their own computers. So one of the most popular sports that many people watch is football. Everyone loves to watch great matches, but people are addicted to most of individual players' games. Yes, everyone has their own football idol, inspiring people to new exploits.
If you live in Russia and support one of the Russian clubs, or you have an idol from this country, then you should know that there are many professional football players here who deserve respect and have long earned their place in the history of world football. as one of the best football players in the history of football If you are interested in knowing some of the most professional Russian and Soviet football players, then you should take a look at our article. In this article, we will describe in detail several of Russia's most professional football players.
List of the Best Russian Football Players of All Time
One of the Best Goalkeepers – Igor Akinfeev
This is one of the best goalkeepers in Russia, of course, after Lev Yashin. Nobody can beat this football player yet. But, despite this, Igor Akinfeev is rightfully considered one of the best goalkeepers in the history of Russian football. Yes, perhaps due to his numerous injuries, he was not able to take part in as many matches on the international stage as he would like, but despite this, this player was able to show great achievements.
He started his career when he was young, and at the age of 18 he was able to become one of the youngest players for the CSKA Moscow team, as well as for the Russian national football team. Yes, it is worth mentioning that he was awarded the Russian Premier League champion title 5 times. In addition, this player won the Russian Cup 6 times. Not every goalkeeper can receive such merit. It can even be said that there are very few people who have been able to receive such merits.
His skills and first-class skills were also recognised even abroad. Despite the fact that this man played all his life for one football club and never played for foreign clubs, many professional football players kept in touch with him and even tried to learn something from this man.
Energetic midfielder – Valeri Karpin
The next one worth mentioning is Valeri Karpin, who is considered one of the best midfielders during the 90s. Yes, he was the one who scored the first goal for the Russian national team after the collapse of the USSR. It was a truly great victory that brought him great fame. This match was held in 1992 against Mexico. Of course, this sporting event ended with the victory of Russia with a score of 2:0.
This player not only played for Russian clubs, but was also part of several Spanish football clubs. After starting his career, he was able to get two titles for the Moscow club Spartak. After achieving this goal, Valeri Karpin decided to try his hand at European football clubs. For this, the player chose Spain, which at that time was one of the best football countries around the world. Thus, this player became a member of such clubs as Real Sociedad, Valencia and Celta Vigo.
In addition, he was also a member of the Russian national football team and represented his country in two world championships. This player, unfortunately, could not lead the team out of the group stage, but despite this, he was an excellent football player who achieved considerable results in his career.
Skillful Footballer – Andrey Arshavin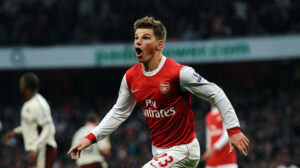 If we are talking about the best football players in Russia of all time, then we cannot fail to mention Andrey Arshavin. This is really an extremely experienced player who was able to show everyone his skills and amazed the whole world more than once. He started his career in Russia and it should be said that most of his football achievements were also achieved for Russian clubs and the Russian national football team.
So, this player spent most of his career for the Zenit football club. But in view of his huge football achievements, the English club Arsenal decided to buy this player at any cost. Thus, the amount of the transfer amounted to a record 15 million pounds. It should be said that Arsenal were not satisfied with this purchase in the future, because Andrey Arshavin could not meet the expectations of the club's management. But despite this, he was still able to show some unbeatable results, such as scoring 4 goals against Liverpool Football Club.
In addition, he also actively participated in international tournaments, representing the Russian national football team. Yes, it was at the European Football Championship in 2008 that the entire world community was able to see the outstanding achievements of this football player. It should be said that Andrey Arshavin had to miss the first two matches in this competition, given that he was disqualified.

But very soon he was able to return to his favorite football team and show a considerable result. So after a quick return to the main squad, he was able to immediately demonstrate an excellent game and score several goals in Russia's matches against Sweden, and then against the Netherlands.
We can summarize and say that Andrey Arshavin is a truly professional and experienced player who was able to prove to the whole world what he is capable of, as well as receive huge support from the global football community.
Move and Learn More About These Famous Players
Now you know the information about several Russian football players who were able to gain extreme popularity due to their abilities in football. All that's left to do is find out more about these people and watch a few of their matches.